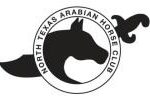 Benefits of NTAHC Membership
We have a monthly member and board meeting the first Tuesday of every month at 7:00pm at the Residence Inn DFW Airport (by Bass Pro Shop) in Grapevine, TX. Guests are WELCOME! Email the NTAHC President, or visit our Facebook Events Page.
We host 2 Region 9 Qualifying Shows shows annually - the MayFest Challenge in Ft Worth each May, and the NTAHC Shootout in Glen Rose, TX each November/December.
We publish the NTAHC Wall Calendar each fall, supported by advertisers throughout Region 9, and distribute it at AHA Convention and local Arabian events. Advertisers also receive 100 calendars each to distribute to clients. To advertise, or for more information, visit our calendar page.
Our club leadership is active in the Arabian horse industry as well as the Arabian Horse Association at the local, regional, and national levels.
The best way to join us is online - go to the AHA Membership page and click on the membership level you want (Adult, Youth, etc.). Be sure to choose North Texas AHC as your affiliate club... OR
Download a Membership Form or email our Membership Chairperson Maureen Davidson.
Mailing Address: P.O. Box 1148, Grapevine, TX  76099
The NTAHC Annual Member Meeting and Officer Elections will be announced at a later date.